Best Colleges Ranking Methodology
Outcomes-Focused Rankings for Every Graduate Degrees Student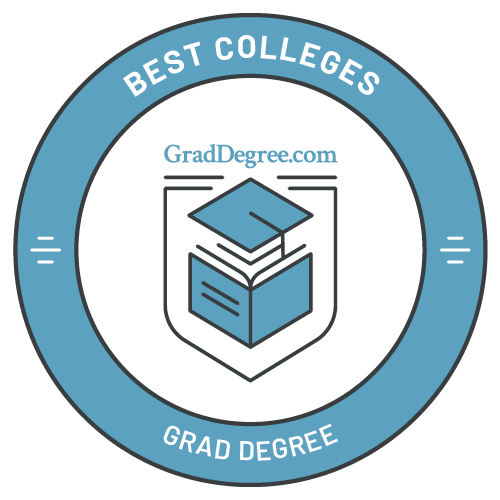 There are plenty of rankings out there already. Rather than just adding to the noise by releasing yet another ranking, we thought long and hard about adding something unique to the conversation.
We believe our 2023 Grad Degree Search Best Schools Rankings do just that. Read on to learn why these rankings are one of the few every prospective student should consult if they want to ensure the best results after graduation.
In This Article:
The Grad Degree Search Difference
Why These Rankings Matter
To create our rankings, we partnered with College Factual, a leading higher education analytics company that has been publishing innovative rankings for many years. The College Factual Data Science team took everything they have learned over that time and combined it with the latest data now available to create a very new type of ranking.
Outcome Focused
Most rankings focus on inputs rather than outputs. They favor things that measure the students that enter the school (inputs) rather than what the school itself does to advance their students (outcomes).
An input like SAT scores has little to do with how good a school is at educating its students. Relying on test scores also eliminates or unfairly characterizes schools that accept a broader array of students or do not use test scores for admission. There has been slow but steady pressure in the education industry for institutions to move to a "test-optional" admissions process. With the legal ruling in the fall of 2020 that the University of California System must suspend all use of SAT and ACT scores in admissions, we see the "writing on the wall" for the use of standardized testing both in admissions and rankings of institutions of higher education.
For similar reasons, we chose to exclude test scores and other input-focused factors such as acceptance rate, faculty status, or institutional spending per student. We instead focus on factors that measure outputs such as whether a school helps students graduate and get a job where they make enough money to pay back the money they borrowed to attend the school.
Bottoms Up
In addition to dropping several factors like the SAT that we no longer feel are appropriate signals of quality, we have also changed from a top-down (institutional) view of quality to a bottom-up view based on majors and degree offerings.
Many rankings calculated a college-wide measure of quality. They then used it as the cornerstone when determining the quality of other rankings at the college, such as the quality of a particular major. This had advantages when data at the major and degree level was often poorly reported by institutions.
On the other hand, this often resulted in colleges that were institutionally excellent tending to be evaluated as also being excellent for each of the majors and degrees they offered and similarly the poorly ranked institutions.
All Students
Focus on institution-level rankings also tended to prejudice traditional "brick and mortar" colleges that educated typical high school graduates, the so-called "first-time/full-time" student. Today, we have access to more reliable data at the majors and degree level as well as data for cohorts of students that might colloquially be thought of as "returning adults". Our new ranking strategy aims to compare these apples to apples where possible.
When we look at factors such as time to graduate, we are doing so by comparing the weighted cohorts of students at a given college against the appropriate cohorts at all other institutions. Rather than evaluate graduation debt and pay across the institution, we now do so at the individual degree and major level.
The result is that we now build rankings up from their lowest level of granularity to a cohort weighted aggregation of the college at the highest level of granularity. Put a second way, colleges that top our overall rankings do so now because they offer the best outcomes for the degrees, majors, and student cohorts they serve. Not just because of industry reputation nor because they have a stellar graduate school (unless, of course, you are using our graduate school specific rankings).
Ranking Factors
The significant signals joining this year are cohort weighted time to graduate as well as post-graduation pay and debt at the individual major and degree level. This is also the first year we have included a look at a college's ability to provide students with distance learning options.
In all, our finest level of detail rankings includes more than 50 individual factors when one considers cohorts, degree levels, and majors. Abstractly, these factors are normalized and weighted. They are then placed in one of five buckets that are then further weighted against each other to produce a final scoring for each institution/award level/major combination. In all, we evaluate approximately 190k offerings from more than 7,500 colleges.
The following five factors combine to create a score for every college, major, degree level combination (190k of them). To calculate scores at a less detailed view, such as at the college and major level or the college level as a whole, we take the scores at our most granular level and weight them by the appropriate number of graduations.
The following sections will outline each of these high-level factors included in this ranking, listed in order of importance.
Post Graduation Wages
This factor compares the post-graduation pay for a given college, degree level, and major compared to all other colleges offering the given major at the given degree level.
Educational Resources & Success
This factor incorporates the weighted evaluation of cohort-specific time to graduate, faculty pay adjusted for the cost of living, the number of FTE students per instructor, and finally, the institutional focus given to the specific major and degree level as measured by the percentage of the college's yearly graduations. Put another way; this measure assesses how much resources are given to each program at the school and whether they successfully support students to get their degree.
Post Graduation Debt
This factor compares the post-graduation debt load for a given college, degree level, and major compared to all other colleges offering the given major at the given degree level. The more debt on graduation, the fewer points awarded. Two additional factors are included here. Debt can be a sign that students are not graduating on time, and let's face it, all else being equal, a student would be better off entering the workforce without a ton of debt weighing them down.
Debt isn't necessarily bad, but students should be able to pay off the loans they do take out if the school prepares them to get a job that helps them do that. Two additional factors included here are the loan default rate three years post-graduation and the amount of progress students have made to pay off their debt seven years out.
Program Demand
Consumers' most important vote is cast with their wallet, so this factor measures general demand for the given education. Specifically, the number of yearly graduations generated at a college for the given major and degree level compared to the competition and the matriculation rate or the percentage of students when given an offer of admission go on to attend the given college.
Online Options
The COVID-19 Global Pandemic has forever changed higher education, forcing all schools to offer flexible learning options. While this is a small factor, given how many students are online for many of their classes, we feel that some nod should be given to colleges that offer some online learning options for students at the given major and degree level (and have been so doing since before the pandemic forced them to scramble to do so).
Data Sources
All of the data included in this ranking comes from official sources within the U.S. Department of Education (DOE):
The core of our college data comes from the Integrated Postsecondary Education Data System (IPEDS) from the Institute of Education Sciences (IES) National Center for Education Statistics (NCES).
List of majors are based on the Classification of Instructional Programs (CIP) from the National Center of Education Statistics (NCES).
Pay, employment and loan data taken from the College Scorecard, which collects much of this data from the U.S. Treasury and the National Student Loan Data System (NSLDS).
Featured Schools
| | |
| --- | --- |
| Request Info | Southern New Hampshire University You have goals. Southern New Hampshire University can help you get there. Whether you need a bachelor's degree to get into a career or want a master's degree to move up in your current career, SNHU has an online program for you. Find your degree from over 200 online programs. Learn More > |